Presentation Skills is really speaking confidently in Public.
So, you've been asked to give a presentation. Not sure what to do? Where to stand? Where to put your hands? How to make sure that you speak confidently and get your message across? How not to put your audience to sleep? How to overcome stage fright?
Well, you've certainly hit the jackpot! We have the answers.
At BE THE VOICE, our Presentation Skills Program covers all these areas and more. Areas that you never thought were so important in presenting. We look at the finer details of what makes a successful presentation.
Our Presentation Skills Program covers the following:
Overcoming Stage Fright:
Understanding that the Fear of Inadequacy
Controlling fear without letting fear control you
Methods that can be employed to conquer stage fright
Presentation Secrets:
The 1st doorway to a successful presentation
How voice characteristics affects what you say
'Voices' for different situations
Presentation Skills
Using our unique SYSTEM make any presentation effective
Using body language effectively
The use of different approaches to different presentations
Speak to us Now to find out how we can help your company
Be The Voice!
Be The Voice to succeed
Be The Voice to Motivate
Be The Voice to Influence
Contact Us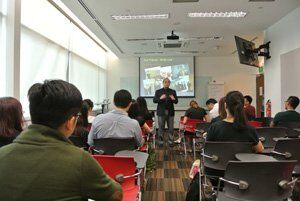 Individual Coaching Client
I am undergoing a individual voice coaching with Brian Lee at "Be the voice academy". I can not recommend him enough. I have always been terrified to speak in public. English is not my mother-thongue, its a big clomplex for me. Brian taught me specific speaking voice techniques which I implemented quickly in my daily…
Individual Coaching Client
Extremely professional and helpful, Brian has instructed me to use my voice correctly for the first time and given me valuable insights into how I could better communicate, motivate, and influence others with my new-found voice. I am thrilled to see the difference it has made in my everyday life and could not recommend Brian's…
Contact us for a no-obligation analysis on
HOW WE CAN HELP YOUR COMPANY
We'd love to hear from you
Leave Message