2 Full Days (9.30am to 5.00pm)
Selling with Your Voice is a comprehensive program that enables participants to understand the different aspects of conveying thoughts and ideas in a confident voice.
Staff are a representation of companies. How well they speak reflects the professionalism and creditability of your company.
In business, the moment your staff start speaking, potential clients will take no more than 15 to 20 seconds to decide if they trust them and would like to do business with your company. It's called Voice Profiling.
Your staff will learn how to leverage on their voices to present products or ideas more powerfully, thereby dramatically increasing their chances of closing that illusive deal.
Workshops are customised to your individual company's requirements.
Speak to us Now to find out how we can help your company
Be The Voice!
Contact Us
Selling with Your Voice – 2 Days
Program
Selling with Your Voice – 2 Full Days (9.30am- 5.00pm)
Day 1
Day 2
9.30am
Registration and Icebreaker for the session
Registration & recap
10.00am

Overview of Speaking & Tone Matters

– Overview of why it's important to speak well

– Why tone of voice matters

– Pausing – Why it's important & how it's done

Owning the Stage (Part 1)

– Overcoming stage fright

– Controlling your state

– Being yourself

11.00am

Knowing the Difference

– Sounds of letters

– Vowels and Consonants

– The vs Thee, and A vs An

Owning the Stage (Part 2)

– Body language

– Tonality of voice

– Eye contact

12.00pm

Breathe & Articulate Right

– Articulation exercises

– Breath control and breathing technique

Presentation Fundamentals

– Understanding your audience

– Presentation techniques

1.00pm
Lunch
Lunch
2.00pm

Pace & Link-Words

– Rules for Link-Words

– Pace

Preparation Process

– Participants to prepare a short presentation segment

3.00pm

Inflections & Volume Expression

– Inflections

– Volume expression

It's Show Time!

– Presentation Segment

4.30pm
Question and Answer Segment
Question & Answer Segment + Feedback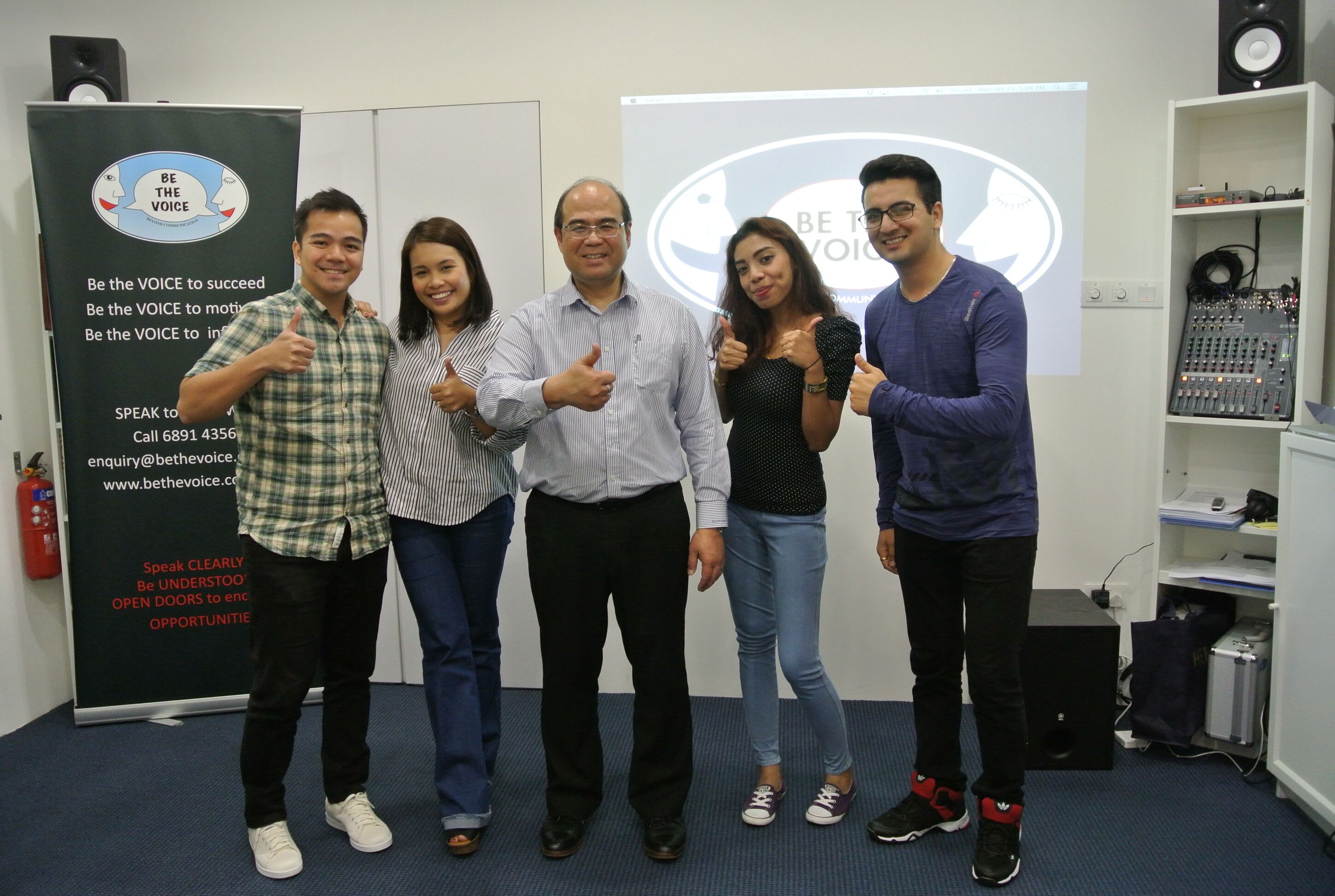 Brian gives you the tools to bring out the potential of your voice, something we use everyday without much thought. With his classes and constant practice, you'll hear your voice grow in amazing ways.
Corporate Coaching Client
Thank you Brian and BTV for helping me be the voice! I'd highly recommend Brian if you'd like to speak with greater confidence in life, at school or work. Brian is knowledgeable, patient and encouraging, and brings out the best in his students – the skills I learnt from Brian are timeless and highly applicable!…
Great course. Highly recommended to everyone who wants to speak with confidence!…..
Many key points were very clearly defined and explained with examples. Examples are real, easy to relate situationally.
Contact us for a no-obligation analysis on
HOW WE CAN HELP YOUR COMPANY
We'd love to hear from you
Leave Message