1 Full Day (9.30am to 5.00pm)
The Quick Fix program is designed for companies with a busy schedule and need a workshop with very specific targets in mind.
This workshop enables participants to learn the specific techniques to use their voices so that they sound clear, articulate, interesting and captivating.
This workshop focuses on the following:
Why it's important to speak well
Transmitting messages
Influencing
Building a confident voice
Voice techniques that harness the power of your voice
Speak to us Now to find out how we can help your company
Be The Voice!
Contact Us
The Quick Fix – 1 Day
Program

The Quick Fix

1 Full Day (9.30am- 5.00pm)

9.30am
Registration and Icebreaker for the session
10.00am

Overview + Pausing

– Overview of why it's important to speak well

– Pausing – Why it's important & how it's done

11.00am

Articulation when Transmitting Messages

– Sounds of letters

– Vowels and Consonants

– The vs Thee, and A vs An

12.00pm

Breathing Right

– Breath control

– Breathing techniques

1.00pm
Lunch
2.00pm

Building an Influential Voice

– Confidence for Your Voice

– Inflections

4.00pm

Harnessing the Power of the Voice

– Coaching segment for participants

4.30pm
Question & Answer Segment + Feedback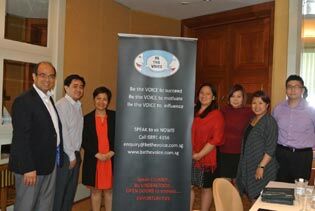 Brian gives you the tools to bring out the potential of your voice, something we use everyday without much thought. With his classes and constant practice, you'll hear your voice grow in amazing ways.
Corporate Coaching Client
Thank you Brian and BTV for helping me be the voice! I'd highly recommend Brian if you'd like to speak with greater confidence in life, at school or work. Brian is knowledgeable, patient and encouraging, and brings out the best in his students – the skills I learnt from Brian are timeless and highly applicable!…
Great course. Highly recommended to everyone who wants to speak with confidence!…..
Many key points were very clearly defined and explained with examples. Examples are real, easy to relate situationally.
Contact us for a no-obligation analysis on
HOW WE CAN HELP YOUR COMPANY
We'd love to hear from you
Leave Message