Speak With Confidence | Coaching skills training Singapore
The way we speak and communicate our ideas, the tone and pace we use in our speech have a deep impact on the way others think of us.
Speaking fluently with good articulation allows us to appear confident and convey positive vibes of who are. Conversely, stuttering and mumbling, or speaking with a harsh tone makes listeners uncomfortable listening to us, and diminishes their interest in communicating further with us.
At Be The Voice, we help individuals discover their voice and shape the way they speak, so everything they say is clear, articulate, interesting and captivating.
In this Tier 1 'Speak With Confidence' programme, we work one-on-one with individuals to identify their issues and challenges.
We impart techniques – in breathing, tone quality, pitch inflection, emphasis, – that enable them to keep their voices clear and accurate. We mentor them in varying energy levels, pacing, tempo, dynamics and inserting pauses to communicate better in any situation.
Who is this programme for?
The ability to speak with confidence is an extremely useful skill for executives in any field. Speaking well not only enables better communication, it helps open doors to further career development. This programme is recommended for any executive who wishes to be the voice that succeeds, the voice that motivates, the voice that influences.
Why this programme works?
At Be The Voice, our trainers are highly experienced practitioners who fuse proven methods with real-life issues to impart skills that participants can put to use in any situations.
Proven Approaches
Participants learn proven breathing and voice techniques developed by recognised institutes and used by professionals around the world.
Hands-On Practice
As the saying goes, practice makes perfect – participants put into practice what they learn at every lesson under the careful guidance of our trainers, who are adept in helping participants overcome issues and gain confidence in their voice.
Real-Life Issues
We make every lesson meaningful with real-life issues that participants can relate to. Our trainers show participants techniques that can be employed and steps that can be taken to resolve issues favourably.
—————–
We have helped Executives, Managers, Senior Directors from pharmaceutical, finance, technical fields Be The Voice That Inspire and Influence.
Wish to find out more?
Contact Us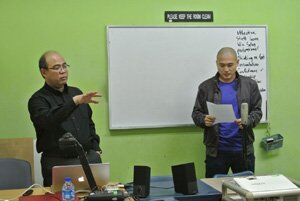 Individual Coaching Client
I am undergoing a individual voice coaching with Brian Lee at "Be the voice academy". I can not recommend him enough. I have always been terrified to speak in public. English is not my mother-thongue, its a big clomplex for me. Brian taught me specific speaking voice techniques which I implemented quickly in my daily…
Contact us for a no-obligation analysis on
HOW WE CAN HELP YOUR COMPANY
We'd love to hear from you
Leave Message