Presentation Skills Training and Coaching
This is where we help our clients deliver professional presentations. How we deliver our presentations is the image that we present to our audience and listeners. Keep people interested in listening to our voices during presentations and we'll leave them with a positive impression and belief that we're confident, knowledgeable and intelligent, even though we may be a bundle of nerves.
Presentation Skills Training and Coaching
commences once you've completed your Voice Training sessions. This is where we walk you through the techniques that we shared in voice training and enable you to communicate better and give you even more presentation tools that can be used immediately to add more 'oomph' to the way you deliver a presentation.
Become the confident person that people flock to. Be a leader.
Speak to us Now to find out how we can help you Be The Voice!
Be The Voice to succeed
Be The Voice to Motivate
Be The Voice to Influence
Contact Us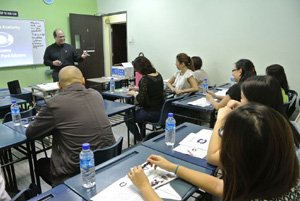 Individual Coaching Client
Extremely professional and helpful, Brian has instructed me to use my voice correctly for the first time and given me valuable insights into how I could better communicate, motivate, and influence others with my new-found voice. I am thrilled to see the difference it has made in my everyday life and could not recommend Brian's…
Contact us for a no-obligation analysis on
HOW WE CAN HELP YOUR COMPANY
We'd love to hear from you
Leave Message