Voice Training and Coaching
is where we help our clients focus on the voice that makes everything they say clear, articulate, interesting and captivating. How we speak when delivering our presentations or communicating with people, is the image that our audience and listeners have of us. Speaking fluently with good articulation will leave our audience with a positive impression and belief that we're confident, knowledgeable and intelligent.
Voice Training and Coaching
is where we walk you through the techniques that keep our voices clear and accurate, and enables us to communicate better.
Become the confident person that people want to listen to. Be a leader.
Speak to us Now to find out how we can help you Be The Voice!
Be The Voice to succeed
Be The Voice to Motivate
Be The Voice to Influence
Contact Us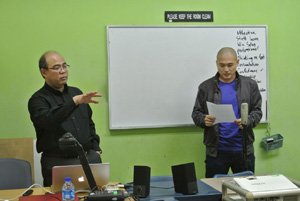 Individual Coaching Client
Extremely professional and helpful, Brian has instructed me to use my voice correctly for the first time and given me valuable insights into how I could better communicate, motivate, and influence others with my new-found voice. I am thrilled to see the difference it has made in my everyday life and could not recommend Brian's…
Contact us for a no-obligation analysis on
HOW WE CAN HELP YOUR COMPANY
We'd love to hear from you
Leave Message